01st Dec, 2020
Family Of Brazen Otters Spotted At Orchard Hotel Singapore As Millennium Hotels And Resorts Launches Otter Family Christmas Adventure For A Good Cause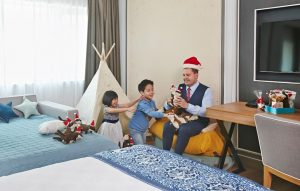 Otter sightings in Singapore have become commonplace and these adorable otter families are now weaving their way beyond parks and forests to explore upscale shopping belt Orchard Road.
Taking inspiration from Singaporeans' fascination with the much-loved otter families, Millennium Hotels and Resorts (MHR) will be launching an Otter Family Christmas Adventure in the newly decorated family-themed rooms at Orchard Hotel.
Experience MHR's brand-new Otter Family Adventure staycation package and kids will be delighted to receive a Christmas Otter upon arrival. For every package purchased this Christmas, $20 will go to The Straits Times School Pocket Money Fund (STSPMF), a charity devoted to helping needy kids and youth. For packages purchased after Christmas, $10 will go to the yearlong charity programme.
Read Full Article